How To UnLink FaceBook From Twitter Posting
Question:
How do I stop my bleeping posts on Facebook from automatically getting posted on my Twitter channel?
Answer:
This is how to unlink Facebook from Twitter Posting.  If you are posting on Facebook and that post is automatically being posted to your Twitter Channel.
Step 1
1.  Go to www.facebook.com/twitter/
Step 2
2. Click the "Unlink from Twitter" url link.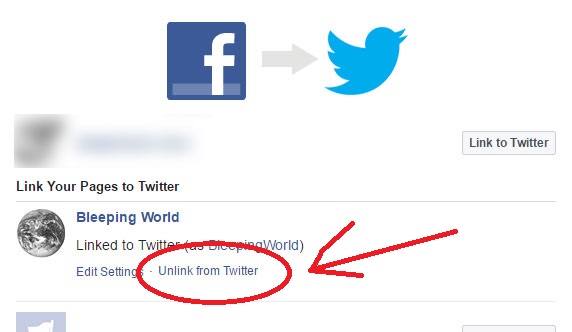 Did you mean how to Link Facebook to Twitter? Please see How To link Facebook to Twitter Posting
Linking Social Media Together By Mistake
After linking your accounts together to automate posting you may have realized that sending the same exact Facebook posting to Twitter might not be such a good idea.  You might be experiencing bleeping problems with images or content!   The two types of social media may also be more bleeping different then you thought.  Many people agree that the interests of the social media crowds very from network to network.  Which means the same content posted on your Facebook page may not be as effective on your Twitter channel.
Engage Social Media
If you want to know how to preform effectively on different social media the solution may not to be automate the task of posting from one source.  The best idea would be to engage with other people on Facebook or Twitter and see what they are doing to maximize views and engagement.  Hash tagging on Facebook might only be a distraction for those trying to read your content.  While posting Tweets on Twitter without hash tags could be a total disaster. It #might be #beneficial to unlink Facebook from Twitter.