ENOD Mini Ring True Wireless Bluetooth 4.2 Earbuds
Designed for the future…
The ENOD Mini Ring are some of the smallest earbuds on the market. They feature the IPX4 sweat proof design along with no cords which is great for workouts and active life styles. The ENOD headset also incorporates the new Bluetooth 4.2 technology which allows for 250% faster data transmission as well as support for IPv6 (Internet Protocol Version 6).
ENOD Mini Ring
Design
The ENOD earbuds about the size of a dime in circumference and are super lightweight. Each ear piece has a button for turning on and off the ear pieces individually, but it's not required since as soon as they leave the case they automatically turn on and connect to each other as well as your device. This is a very handy feature which is unique to only those headsets that utilized carrying case chargers.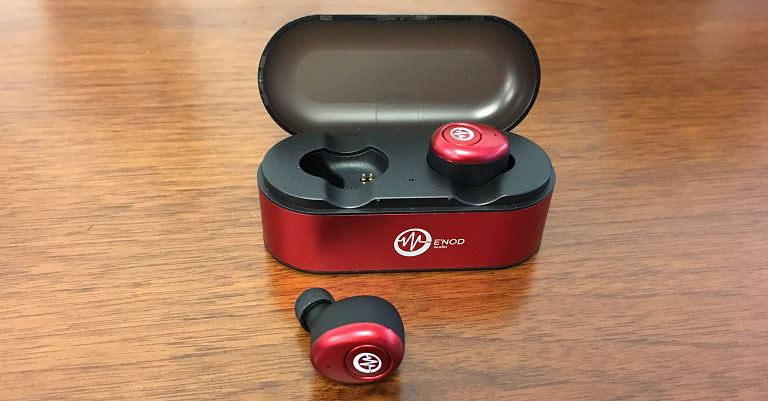 ENOD Mini Ring Charger
As mentioned, the carrying case doubles as charging case with its own 500 mAh battery life. Whenever you're not using the ENOD earbuds you can slip them it to the magnetically held compartments to ensure you always have a freshly charged pair of Bluetooth earbuds. The case has a beautiful ionized aluminum finish to it with a USB mini port stationed on the back for charging. When the ENOD earbuds are inside their case they will illuminate until they are fully charged and then the light will disappear. When the case is charging there is a small LED on the base of the case that will shine until fully charged.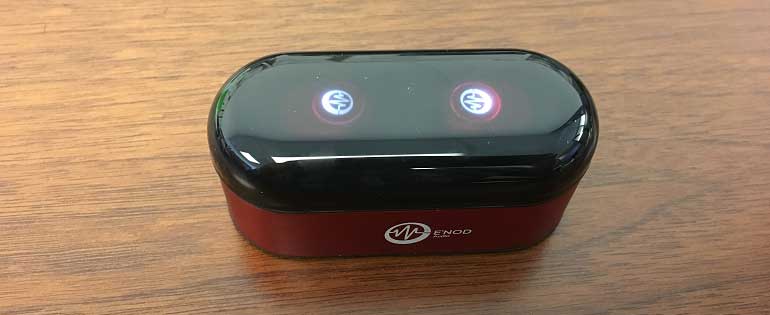 Battery Life
A single charge will last for about a 2-3 hour session but will usually end up lasting about 2 hours. The battery life is not very long but the nice part is the charging case will supply about 4 full charges to the earbuds. The ENOD charging case is fairly compact and super light so it travels pretty well in the pocket without a lot of bulging.
The ENOD Mini Ring True headset is ridiculously easy to set up. Straight out of the box they come charged and ready to go. As soon as they leave the carrying case they power on and look for your device. There are no buttons to press, just enable Bluetooth on your device and select the ENOD headset.
*NOTE: There are buttons on each ear piece.
ENOD Functionality
The playback volume on these headphones is loud and has quality that resembles a wired headphone set. During incoming calls you can easily tap the ear piece to accept. Once you accept a call the ENOD headset drops from 2 ear pieces to just the left side. The call quality is decent but sometimes sounds a little low to the person on the receiving end. But these are still on par with many calling headsets. After ending a call the headset immediately goes back to dual channel so you can enjoy your music again or your previous entertainment.
ENOD Take Away
Super small design with lots of the latest technology built in. Our favorite things about these ENOD earbuds is the ability to auto connect. There's no fumbling around with buttons or figuring out how to pair to a device every time you want to connect. The audio quality is defiantly up there and highly recommended in that department.
The not so great part is probably the battery life, but for the size and shape compared to others, the battery life is about the industry standard. If you're shopping for a mini Bluetooth headset, then the ENOD mini ring has the battery life you would expect.
Call quality is about average for one of these types of headsets.  The only way to get better quality would be to get a headset that is devoted to call quality, but then you are usually sacrificing audio quality for things like music, and you only have one ear piece.
When it comes down to it, the ENOD Mini Ring True headset produces great sound with in a small cordless design.
*Price: $59.99 at time of publishing
ENOD Mini Ring Specifications:
Design: IPX4 Sweat Proof
Bluetooth: 4.2+ Airoha AB1526
Support: A2DP/AVRCP/HFP/HSP/CVC
Charging time: 1H
Talk time: 2H
Play time: 2-3H
Bluetooth range: 10m/33feet
Earphone size: 16*20*14.6mm
Earphone battery: Built-in 50mAh(Each)
Charging case battery: Built-in 500mAh
Weight: 47.8g
Warranty: 12 Months
Box Contents:
1x pair of ENOD Mini Ring
3x pairs earplugs (S, M, L)
1x USB Charging Cable
1x User Manual
1x Charging case
ENOD Mini Ring Manual
At this time there is no online PDF user manual.
LINKCK091918