What is ClickFunnels | Do Marketing Funnels Work?
About ClickFunnels
ClickFunnels is a marketing software for creating conversion tunnels. The extreme power of ClickFunnels was launched in 2014 with many functionalities. The software integrates all the tools for automating the entire sales process front to back.
Landing Pages
Conversion Pages
Squeeze Pages
Marketing automation
Payment system
Email Marketing
These tools create all types of tunnels based around gathering leads, boosting sales, raising conversions, and follow up marketing. ClickFunnels is very simple to handle: no need to code, thanks to various templates tunnels and a very intuitive editor to customize the funnel pages.
What is ClickFunnels?
In ClickFunnels, you design a "Funnel", which is a customized user experience that takes traffic and targets them in a certain direction.  The conversion tunnel describes the process – that is, the steps – that a prospect takes to become a customer. For example: Landing page email -> Product page + form –> Confirmation page –> Thank you or download page. The nature of the tunnel and the pages that compose it vary according to what you want to accomplish:
Collect Emails
Sell a Product
Give Away Product
Bridge Traffic
Collect information before or after an event
Anyone who wants to sell a product or service on a website must create and optimize the conversion tunnel, by making the navigation on the site more fluid, by eliminating unnecessary steps, by highlighting the CTA buttons, by creating forms effective, by adding reinsurance elements, etc. This job is tedious. ClickFunnels, developed by a certain Russell Brunson and his team, makes it possible to create tunnels of conversion and to automate in particular the sale on-line without needing to create a support website.
The advantage of ClickFunnels over its competitors is that it is not just a landing page creation tool, but a conversion tunnel generator. ClickFunnels makes it possible to create conversion tunnels from A to Z (from the creation of the landing page to the management of payment systems) without having to use 5 or 6 different tools. ClickFunnels also includes, as we will see, a marketing automation tool and an affiliate tool. Let's go into a little more detail.
ClickFunnel Features
Optimized for search engines    
Optimized display on mobile
Suitable for e-commerce             
Template adapted by sector or profession
ClickFunnels offers a wide variety of landing page templates to create all types of conversion tunnels. You can use ClickFunnels to capture leads / email addresses and increase your mailing lists, sell products / services, collect information about participants in your webinars, manage registrations to your member area.
14 Day Free Trial of ClickFunnels
The intuitive page editor allows you to create and customize each page of your conversion tunnel via an intuitive point-and-click system, without the need for code skills or hiring a developer. The editor is WYSIWYG, which allows you to see in real time the changes you make. In general, the Clickfunnels editor is much easier to handle than the one in LeadPages.
When you choose a conversion tunnel template, ClickFunnels generates all the pages in the conversion tunnel. For a sales channel for example:

You can add additional pages or delete pages, which allows you to create 100% customized tunnels. You are absolutely not constrained by the initial model you choose. On each of the pages of the tunnel, you can add the elements of your choice: polls (which you can edit from Click Funnels), SMS forms, price zones, videos, images, Facebook comment boxes, countdowns, a FAQ, etc.
You can also insert HTML code, adapt the structure of your pages by customizing the number of columns (six maximum), background colors, margins, fonts, alignment…
If you sell a product, you need to set up a payment system. On this point, ClickFunnels can connect with solutions like Stripe (we recommend!), Paypal, Clickbank or InfusionSoft. Very convenient. And especially the integration is done in a few clicks. Once you have connected your payment tool, the payment system will be automatically integrated on the order pages of your conversion tunnels.
Performance Tracking and Analysis
ClickFunnels also allows you to track and analyze the performance of your conversion tunnels. At the top of each page, you can see in real time the number of visitors who have landed on the page and the number of visitors who clicked on it. You can also know the overall conversion rate of your conversion tunnel, ie the proportion of prospects (= people who have landed on the first page of the tunnel) who validated the last page of the tunnel (giving an email, by paying …). Click Funnels also offers graphical reports.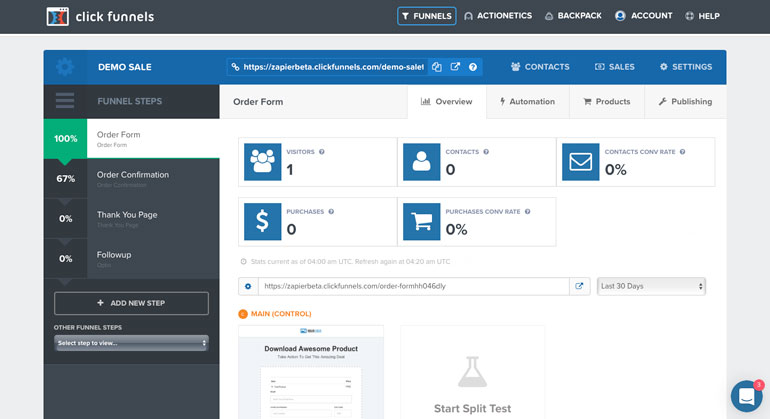 ClickFunnels also provides a split testing tool, which allows you to compare the performance of different versions of your conversion tunnel. A / B Tests are essential to improve the performance of your tunnels. To create different versions of the same tunnel, the simplest method is to copy-paste your conversion tunnel and modify the elements of your choice (the location, the color or the size of the CTA buttons for example). After all, to be honest, ClickFunnels Split Testing is not the most feature rich in the market. We do not find the functional richness of a tool like Thrive Leads for example. In particular, ClickFunnels does not automatically select the winning version based on the collected performance data.
Marketing automation (via Actionectics) and affiliation (via Backpack)
ClickFunnels was basically a pure software for creating tunnels conversion, and nothing else (which is not bad). Since then, the software has been enriched with two new tools:
Actionetics
Allows you to do marketing automation. Concretely, you can send automatic messages to your prospects based on the action they perform inside your tunnel.
Backpack
Allows you to add an affiliate program in your conversion tunnel without having to use third-party platforms. This tool helps to generate more sales. You can add in the pages of your tunnel affiliate links, banners…
Actionetics is probably the most interesting tool of both. Marketing automation is very important and the fact that you can configure your messages and scenarios inside your tunnel is particularly interesting. With Actionetics, you no longer need to use emailing software or an auto-responder solution: an email editor is integrated directly into ClickFunnels. Afterwards, we must be honest here again: automation features (scenarios) are less advanced than what is found on marketing automation software (type ActiveCampaign or SendinBlueIt should be noted that Actionetics also allows for scoring: each of the leads obtained through your tunnel receives an "Action Score" based on recency, frequency and amount (RFM). This allows you to identify the leads most likely to buy.
Advantages and disadvantages of ClickFunnels
Here are, in a nutshell, the main advantages and disadvantages of ClickFunnels software.
Advantages
ClickFunnels makes it possible to create and customize conversion tunnels.
Good balance between flexibility and ease of use.
All-in-one software, which allows you to sell products or collect leads without having to use 5 or 6 tools.
Integrates with most emailing software and payment systems.
Library of varied tunnel templates.
Many tutorial videos and well done. ClickFunnels often organizes webinars.
New features are added regularly.
Free trial period of 14 days.
Disadvantages
The price. ClickFunnels is quite expensive, especially compared to its main competitor LeadPages. For a complete comparison between ClickFunnels and LeadPages.
The limited number of tunnels, pages and visitors in the standard formula.
The features of Split Testing, quite basic.
Offers & Prices
ClickFunnels offers a free 14-day trial period that gives you the time to get a good idea of ​​the potential of ClickFunnels. Then you have the choice between two paid subscription plans:
$ 97 per month – which gives access to all tunneling tools. However, you are limited to 20 tunnels, 100 pages and 20,000 visitors. In addition, this formula does not allow the use of Actionetics and Backpack tools.
$ 297 per month – which gives you access to all ClickFunnels tools, including Actionetics and Packpack. You can create as many tunnels and pages as you want. The number of visitors is unlimited.
ClickFunnels is relatively expensive, it must be recognized. And there is a fairly large price gap between the two formulas, which can cool down. You have to have a certain budget to use this software. ClickFunnels is only interesting if you really want to take advantage of all the features offered. Otherwise, a tool like Lead Pages or even a WordPress plugin is an alternative to consider.
14 Day Free Trial of ClickFunnels