RAVPower USB Charging Station 60W 12A 6-Port
RAVPower 60W 12A 6-Port USB Charger Desktop Charger Charging Station with iSmart Technology (Model: RP-PC028)
If you're looking to tackle a lot of charging all at once,  the RAVPower USB Charging Station will do the job. It has a small compact design that fits in the pocket, yet packs enough punch to silently charge all your devices.  This multi charging station looks and feels solid. Great for traveling or cleaning up a sea of electric snakes. It's equipped with smart charging technology so you never have to worry about plugging your device in to the wrong USB port.
RAVPower  60W 12A 6-Port USB Charging Station
It's a load off your mind… Well a load of power adapters that is.
Power Capability
The RAVPower USB charging station will charge up to 6 devices from the supplied USB ports. Just connect the Wall Charger to the base of unit and plug in your USB charging cord. This charging station is compact and will safely charge at maximum of 60 watts total power. Capable of charging at up to 2.4 amps per USB port.  Which is enough to charge any smartphone, tablet, or other device at its maximum rate of charge.
Some USB charging stations have power limitations on certain ports.  Plugging your device in to the wrong port on other similar charging stations could mean slow charging and sometimes no charging at all.  This charger takes all the guess work out.  Just plug your device into any port.  It really couldn't be simpler.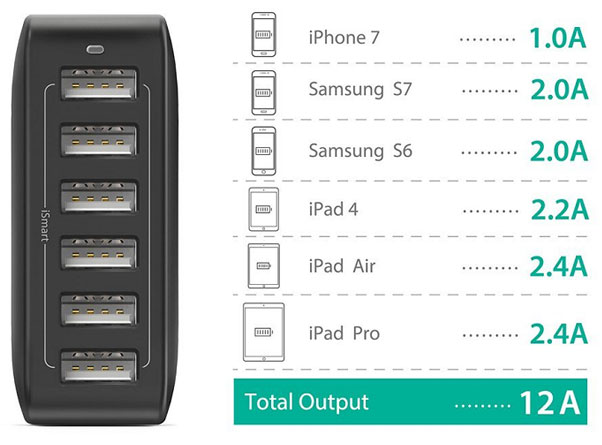 Automatically Adjust Power – 60W 12A
RAVPower features iSmart Smart Charging Technology.  This will automatically identify the charging requirements of the devices you connect and adjust the power to match the optimal charging rate.  Making sure each USB port delivers the perfect amount of power.  Selecting the right amount of power will guaranteeing the fastest and most efficient charging speed.  It also means your devices will be safely charged at the recommended manufacturer rate which maintains devices advertised battery life.
RAVPower Charging Limit – 12A
This charger does have its limitation though.  The maximum USB charging capacity is 12 amps.  If you plug in 6 devices requiring 2.4 amps each, it won't output 14.4 amps.  It will drop the amperage on certain ports to keep the total under 12 amps.  It's not a big deal if you're charging overnight but if you're trying to get the quickest charge on 6 devices all requiring 2.4 amps then you'll need a second USB charging station.

One Charger For Everything
This charger makes managing all your charging adapters easier to manage by eliminating them.  It cuts down on the amount of surge protectors or plugs so you can free up outlets.
It also makes traveling a lot easier.  When every one of your family members or friends has a phone and a charger too pack.  With this all you need to pack is one charger.
The 60W 12A USB charging station comes with an impressive 1.5 meter (5 ft) power cable which is long enough to comfortably place the USB base on any desk or setup.
Safe and Compact
The RAVPower USB Charging Station (RP-PC028) is made up of fire-resistant materials and is designed with a matte black shell. The circuitry inside has been newly redesigned to protect devices against overcharging and overheating.  The short circuit protection allows various input voltages for complete compatibility with outlets in countries worldwide.

​
*NOTE: Prices frequently change – Check Latest Price
RAVPower 60W 12A 6-Port USB Specifications
Power Output: 60 watts maximum
USB Ports: 6 Device Inputs
Compatibility: Charges All Devices
Smart Technology: iSmart technology automatically adjust to devices power requirement
Input Voltage: 110V TO 240V
Size: Compact RAVPower 60W 12A 6-Port USB Charging Station
Protection: Overcharging, Overheating & Short circuit protection
Charging Rate: 1.0 amp – 2.4 amps (per USB port)
Maximum Charge: 12 amps
Colors: Black & White
Product Dimensions: 3.98 x 2.72 x 1.14 inches
Weight: 6.8 ounces
Warranty: 18 Months
Model: RP-PC028
LINKCK091918