Amazon Alexa Echo Dot (2nd Generation) Review
The Echo Dot is another version of the Alexa Echo or Alexa Tap and does not require either of these to function. They are all their own individual devices.
What is the Alexa Echo Dot
The Amazon Alexa Echo Dot is a voice controlled device that is used to control your homes smart devices. You can also search for answers to questions, hear the news, set alarms, play music, order food, and search for local businesses.
The Echo Dot is a smaller version of the "Echo" and "Echo Tap" versions. They took out the premium speaker to make this model much lighter and more affordable.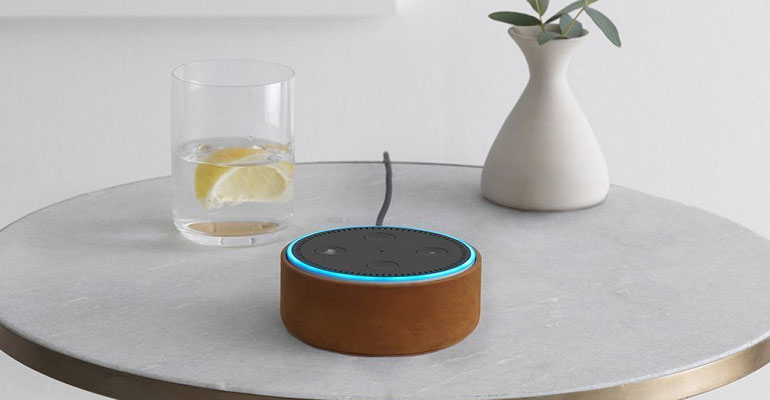 Amazon's Alexa Unboxed
Out of the box the Echo Dot is about the size of your palm and very light. It comes with a USB power cord, wall adapter, and starter guide instructions.
The unit is not rechargeable but that's probably because it's always on and listening for your commands.  However, they do make a portable rechargeable version called the Alexa Echo Tap, which you can see HERE.  The Amazon Alexa Echo Dot has 4 buttons on the top. From these buttons you can control volume and turn off the microphone so that it's not always listening.
Play Music
The speaker is not very large or powerful but the unit has a nice option where you can connect via Bluetooth or use the jack to play all the sounds from an external speaker or stereo. Playing music is pretty easy, you can connect the device to Pandora, Spotify, Amazon Music and others.
Control Smart Devices
The device can be connected to all of your smart devices.  Just like you would use an application to control your lights or thermostat, you can pair your Echo Dot and tell it what you want that smart device to do.
Activation Word
When you're speaking to the device it lights up a blue ring around the top. It has an activation word. When I say "Alexa" it pipes up and starts listening. The activation is pretty seamless, so when I start talking I don't have to pause and wait for the device to activate or anything. I can continue in one fluid sentence.  Like "Alexa what is the weather going to be like today".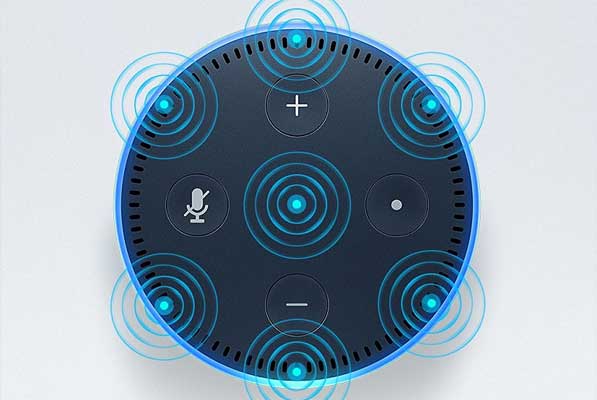 Voice Recognition
The device picks up voice pretty well but when there was other noise in the room such as its own alarm going off, it had some trouble hearing me telling it to "stop". That was kind of annoying so it's probably best to have this hooked up to an external speaker.  This way the microphone and speaker are not right next to each-other.  The unit is constructed with mics on the top and speaker on the bottom so they sit about 1.3 inches apart.
Alexa Application
Setting the alarms and count down were easy to do.  I would just say "Alexa set alarm for 2pm".  In particular, I like how you can set the volume and sound type individually from Alexa's playback voice through the Alexa Application.  So, I can have Alexa speak softly but still have my alarm blare.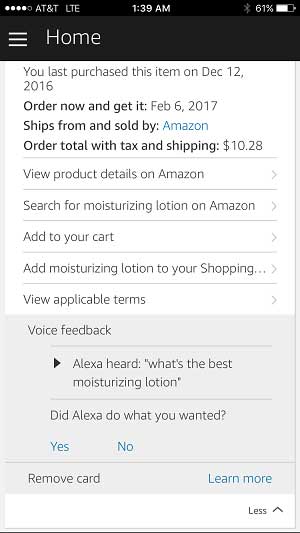 The application is pretty nice.  Once I start asking Alexa stuff it all goes directly into the app so I can see what I asked it, and see if it understood what I was saying, correctly.  If Alexa didn't understand what I said I can give it feedback, which is supposed to help Alexa's voice learning system.
While the point is to not have to use your hands, sometimes some questions are too big for Alexa so she tosses me a link in the application to get more information on the answer.
​
*NOTE: Prices frequently change – Check Latest Price
Specifications:
Supported Wi-Fi Bands: 2.4 GHz or 5 GHz
Wi-Fi channels: 802.11a, 802.11b, 802.11g, 802.11b
Bluetooth: Yes
Audio Input/output: 3.5mm AUX
USB Cable: USB Micro
Rechargeable: No
Colors: Black and White
Dimensions: 1.3 inches H x 3.3 inches Dia.
Original Released: Oct. 2016
Amazon Alexa Echo Dot Box Contents:
1 x Echo Dot
1 x USB Charging Cord
1 x Wall Adapter
1 x Manual