Bose SoundLink Around-Ear Wireless Headphones II
Bose SoundLink around-ear wireless headphones II Black
Bose SoundLink II
If you like around the ear headphones you're definitely going to like the Bose SoundLink II. The size, materials, and weight make these incredibly comfy around the ear. They are large but they are actually quite light. They come with their own carrying bag and an audio cable. Which is pretty nice because I don't always remember to charge my headphones, but they last 15 hours so I don't have to charge them every day regardless.  Needless to say if you end up running low on batter you can connect the headphones directly to your device with just the audio cable.
SoundLink II Call Quality
These headphones have dual microphones that are designed to shield out the wind. My calls are clear and I have not had anyone complain that they couldn't hear me. Using them is really simple, you just tap the ear cup to pair, and if you're worried about how much battery life you have left you can check it with the ear cup controls or voice prompts.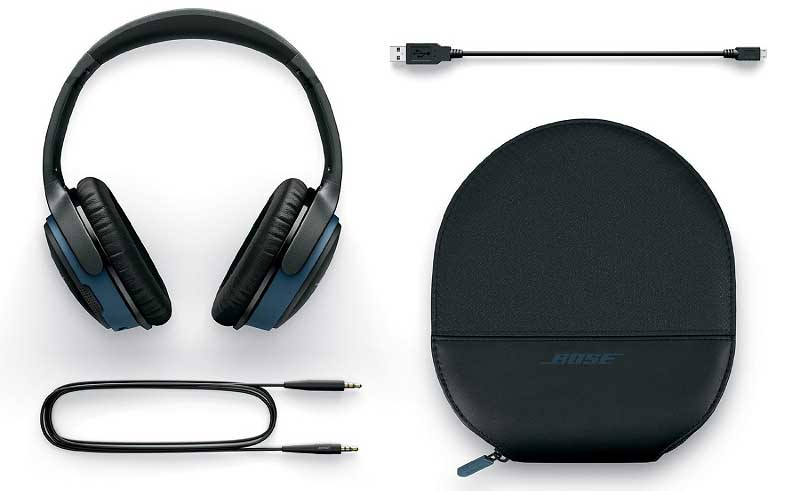 Bose Around-Ear HeadSet
Surprisingly, there a actually quite reasonably priced for headphones of this class.  Bose SoundLink Around-Ear headphones are great quality and they feel really durable. The memory foam layered inside the ear pads make them super comfortable, and the sound is amazing thanks to the Active EQ and TriPort technology.  The Bose SoundLink II comes with many of the latest features for less then a lot of other premium headphone alternatives. They channel out the noise and I don't even have to have music on to ignore people.
Bose Bluetooth Technology
These Bose Soundlink II's are equipped with the latest in Bluetooth technology (Version 4.1).  It basically means that you can connect to multiple devices simultaneously and that the wireless signal draws less power which saves battery life.  All in all, these are some of the highest ranked in comfort, quality, and battery life.
Our favorite thing about these headphones was the ability to connect the audio cable directly in to and from the headset.  Going wireless is great, its convenient, but you will always notice the difference between direct connections and wireless Bluetooth. Its a nice option.
​
*NOTE: Prices frequently change – Check Latest Price
Bose SoundLink II Specifications:
Battery: 15 hours (lithium-ion)
Microphone: Dual, noise canceling
Sound: Deep, Immersive
Bluetooth: Version 4.1
Earcups: protein leather (no latex)
Technology: Triport, Active EQ Drivers
Range: 33-60 ft
Port: 3.5 mm
Features: Seamless Switching (multi device)
Weight: 6.9 oz
Dimensions: 1.8 x 6.5 x 7.9 inches
Warranty: Bose 1 Year Limited
Model: Bose SoundLink Around-Ear
LINKCK092018