Nikon D3400 DSLR Camera DX NIKKOR Review
Nikon D3400 w/ AF-P DX NIKKOR 18-55mm f/3.5-5.6G VR (Black)
Nikon is a brand that has been around since 1917 and is known worldwide for their excellent optics and imaging products. Did you know that they actually created some of the first digital SLRs for the NASA to use them in the Space Shuttle?
The Nikon D3400 is a DSLR camera that is meant to make photography easy. You can capture photos and videos that are vibrant and lifelike thanks to its NIKKOR lens, which also allows you to shoot in extremely low-light conditions.
SnapBridge Technology
Have you ever heard of SnapBridge? It is what Nikon uses to make your camera and your smartphone work together. As soon as you take a picture, it is transferred to your tablet or cell phone via Bluetooth, so you can post it on Facebook or email it to a friend. And you don't need to choose between your tablet and your phone, it is possible to sync up to 5 different devices, and your pics will be sent to all of them automatically.
Many Pre-Set Modes Available
The D3400 offers an auto mode that will automatically calculate the best settings to use when taking a picture. It is a point-and-shoot mode that makes it your camera easy to use. If you'd like to have more control, there are several pre-set modes you can select depending on what you want to achieve.
No flash mode – Basically auto mode, but without the flash popping up.
Portrait mode – The camera will automatically make sure the background is out of focus and smooth the skin tones
Landscape mode – For taking landscape pictures; it will boost the saturation in the greens and blues
Child mode – Shutter speed increases to capture the pic since children don´t usually stay still
Sports mode – Great for freezing motion
Macro mode – Perfect for taking photos of insects
Night Portrait mode – Same as portrait mode, but ideal for low-light conditions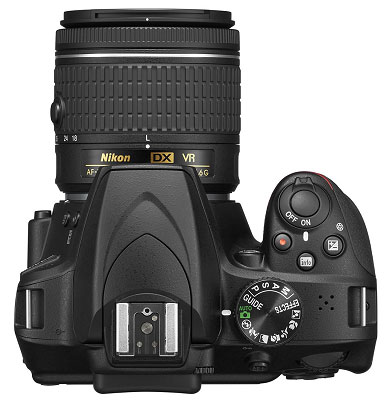 Video Recording
Capturing full HD video is possible thanks to the D3400's  AF-P DX NIKKOR 18-55mm f/3.5-5.6G VR lens. It uses a stepping motor that makes autofocusing both smooth and quiet. This prevents any motor sounds from happening in your video and the only sound you will hear is the one that is recorded with the camera's internal mic. This type of technology is mostly used on cameras that are much more expensive, so having it in this entry level one is a great plus.
Action Shooting
If you are at a soccer match or watching your kid play baseball, you will love having the D3400 with you. If you keep the shutter button pressed, it will capture 5 FPS continuously. This will get you some amazing photo sequences that you can later check out to select the best shots.
Final thoughts
Overall, the Nikon D3400 offers amazing value for the money. It is sturdy and lightweight, easy to use and takes pictures with outstanding quality. If you are looking to buy your first DSLR camera, or even if you are an advanced photography enthusiast, the Nikon D3400 is an option you should seriously consider.
​
*NOTE: Prices frequently change – Check Latest Price
Direct Competitors
Have a look at some DSLR cameras similar to the Nikon D3400.
---
Nikon D3400 Specifications:
Zoom: 8x digital zoom/1x optical zoom
Resolution: 24.2 MP
Continuous Shooting Speed: 5 fps
ISO Range: 100-25600
Max/Min Aperture: ƒ/3.5- ƒ/22
Max/Min Focal Length: 5.6 – 22
Max/Min Shutter Speed: 30 Seconds / 0.0025 seconds
Image Types: Raw & JPEG
LCD screen: 3-inch
Video Resolution: 1080p
Focus: Auto & Manual
photo Sensor: cmos
Timer: Yes
Removable Memory: SD Card
Warranty: 1 Year Full Protection
For help registering your product visit: http://www.nikonusa.com/register/
Boxed Contents:
D3400 Camera Body
Rechargeable Li-ion Battery
Quick Charger
Rubber Eyecup
Camera Strap
Body Cap
AF-P DX NIKKOR 18-55mm f/3.5-5.6G VR lens
55mm Snap-On Front Lens Cap
Rear Lens Cap
LINKCK091918