Nixeus Moda v2 Compact Mechanical Keyboard Review
Nixeus Moda v2 Compact Mechanical Switch, Smooth Linear Keyboard for Windows & Mac (MK-RD15)
In a world that is contently changing there is at least one thing that stays consistent.  Mechanical keyboards always have the same layout so there is no time needed for your fingers to adjust to new key positions every time you purchase a new keyboard.
Nixeus Compact?
The Nixeus Moda V2 Compact Mechanical Keyboard, despite its name is not a miniature size keyboard with miniature size keys.  It's a full standard size keyboard with standard size keys.  We find it a confusing naming convention but the "Compact" only means that it is a keyboard without the 10-Key pad.  The 10-Key pad are the numbers that sit to the right side on most keyboards with the typical numeric phone style layout.  The 10-Keyless design is for ergonomic use.  It supports a natural resting position of the body.
Certified Quality Kailh Switches
Nixeus Moda V2 is a more affordable way to enjoy the luxuries of having a mechanical keyboards.  It doesn't have any fancy lighting or other bells and whistles.  What it does have is a full anti-ghosting roll over keyboard with cherry style key switches.  These aren't just any key switches that you might find on cheaper mechanical keyboards though.  The switches are certified "Kailh" mechanicals.  The model that we are reviewing are the "Red Switch" model MK-RD15.  The red switch are a key technology that is quiet and smooth with no tactile feedback.  Also available in brown and blue.
Nixeus Mechanical Keyboard Features
Out of the box the keyboard comes with a key switch puller, some extra key caps for a Macintosh branded layout, and warranty with instructions.  The Mechanical Keyboard unit weighs 2.7 pounds and has a nice solid feel to it.  It has rubberized kick stand feet for positioning and stability.  The board connects to Desktop PC or Laptop via USB (one port).
Typing on the keyboard feels nice and smooth as red key switches should.  Kailh has done a very nice job with these mechanical Keys.  If you type really fast then you will enjoy the anti-ghosting keys which are unique to mechanical keyboards.  If you unfamiliar with Anti-ghosting or mechanical keyboards you can read more here [What Is A Mechanical Keyboard].  One thing that was a bit confusing on this keyboard is that you have to turn on key roll over in order to get it to function.  This was not a big deal.  A function key press and done.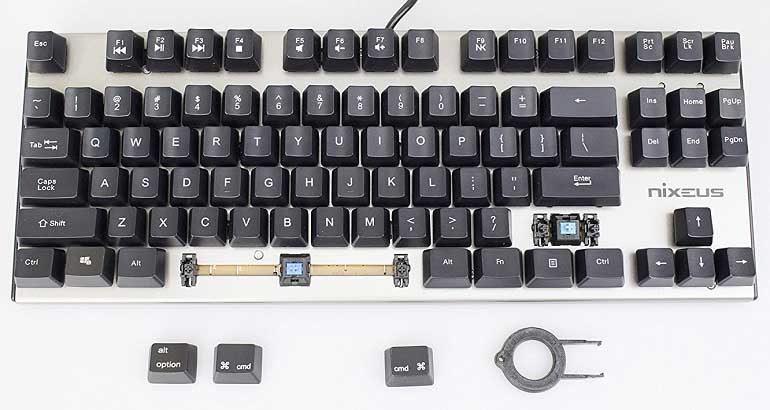 Mechanical Customization
If you know a little about Mechanical Keyboards and customization you will like this keyboard.  The key puller included in this package actually works.  Pretty nice if you're looking to add some O-rings as those are not included.  If you're a gamer you'll be happy to know that there is a windows lock key.
All in all it's hard to beat the price of this Nixeus Mechanical keyboard in terms of it quality and certified keys.
​
*NOTE: Prices frequently change – Check Latest Price
Specifications:
Mechanical Switches: Nixeus Certified (Kailh) Red Switch
Design: 10-Keyless
Key Actuation Force: 45g (Red Switch), 55g (Brown Switch), 60g (Blue Switch)
Key Actuation Distance: 2.0 +/- 0.4 Mm
Poll Rate: 1000Hz ~ 1ms Response Time
Technology: 6 Key Roll-Over and N-Key-Roll-Over with Anti-Ghosting
Dimensions: 15.75″ (Width) X 8.07″ (Height) X 1.97″ (Depth)
Keyboard Weight: 2 lbs
Support: Compatible with Windows XP/Vista/Windows 7/Windows 8/Mac OS
Key Switch Rating: Up to 50 million keystrokes for durability and long life
Model: MK-RD15
Waranty: 3 Year Limited with technical support (Free)
Box Contents:
1 x Keycap Remover
1 x Mac Key Caps (For Mac OS Computers)
1 x Quick Start Guide
1 x Warranty Card