TEWELL Retrorock AC Wireless Bluetooth Speaker Review
A classy styled portable speaker with a punch.
The TEWELL Retrorock AC is exactly as the name suggests.  A retro styled speaker that jazzes up just about any décor.  It features the latest Bluetooth 4.2, delivering a faster and more reliable wireless Bluetooth connection while consuming less power.  Don't be fooled though, this speaker definitely delivers louder quality audio than your average portable speaker.
TEWELL Bluetooth Speaker Design
Out of the box you get a very meaty, sturdy portable Bluetooth speaker.  It features a solid wood box like a real speaker should.  The TEWELL Bluetooth speaker box is wrapped in synthetic leather with an intricately woven cloth like speaker grill.  Along the top is a retro style switch for powering on and off the device.  The buttons have a nice clicky feel to them and allow you to traverse through playlists as well as disable your wireless connection for feeding the audio directly through the included AUX cable.
Power Cord
We were thoroughly impressed with the AC power cord.  Most rechargeable devices now a days come with micro USB cables which tend to bend and break way too often.  This power cable has a real round pin adapter port plug that you find on most laptops.  So if an Air BNB guest steals your cord and your looking for a power cord replacement, look for your buddies laptop.
TEWELL Portable Speaker Charging
** Updated ** The charging has been removed from the TEWELL RetroRock Bluetooth Speaker.
This portable speaker features a nice size rechargeable battery that is rated for 4 hours of continuous play back.  But we have been getting about 6 hours plus on it's built in, 1200 mAh rated battery. It really depends on how loud you play your music continuously as volume levels will inversely effect battery life consumption.  Louder volume consumes more battery in all things electronic.  At low volume levels you should see 8+ hours of continuous playback.
Cord With Adapter
When you're not out and about you can use the included 2 amp, high speed USB charging cord with adapter.  Great for fast charges or just keeping a full charge while you listen to your favorite tunes.
To charge the TEWELL portable speaker you just plug in the AC adapter in to the back.  The top lights around the volume will shine in a red color.  This means that the portable speaker unit is charging.  Once the red light turns off your speaker is fully charged and ready to go.

*NOTE:  If the unit is powered on it will not display the red light charging status indicator.
TEWELL Wireless Speaker Power
Most compact portable speakers only offer 5-12 watts of peak power but the TEWELL Retrorock AC offers 24 watts of total power split by 2 drivers delivering 12 watts each.  So it comes as no surprise that this speaker is loud.  With the audio level cranked all the way up we experienced no distortion which is also rare for any speaker.
Bass Power
Did we mention bass?  The TEWELL wireless speaker does an awesome job.  It features a direct airflow port out of the back side, which allows the mids and lows of your audio to resonate with accuracy.  When playing music with a lot of bass you can feel the air blowing from back. Now that's power!
High Tones
The treble on this is pretty standard.  We didn't notice any extreme high clarity and there is no way to turn up the treble on the device.  If you want to play around with the tones you will need to adjust them from your equalizer or computer, because the're not on the TEWELL Bluetooth Speaker.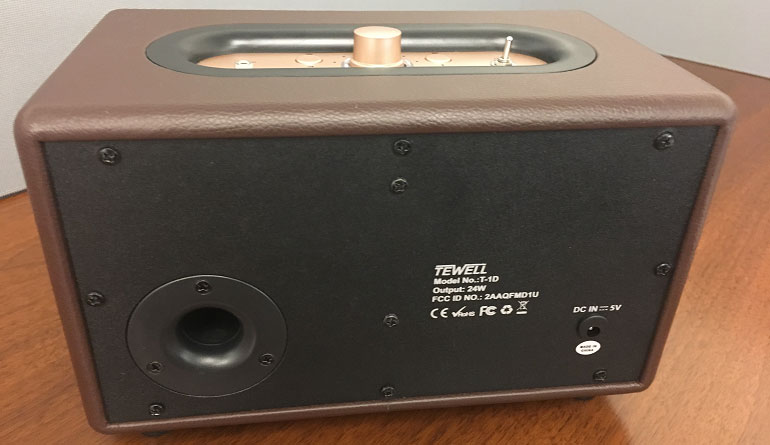 TEWELL Pairing Mode (Setup)
Setup was rather easy.  You flip the power switch and the blue lights around the volume button automatically start to blink followed by 2 beeps.  This is the paring mode.  In the TEWELL Bluetooth speaker paring mode you just look inside the device that you want to pair the TEWELL device to, and press "connect".  The blue lights will stop blinking and you will get a single beep to confirm the paring mode was successful.
Final Thoughts
The TEWELL Retrorock AC packs some awesome sound.  Sound that you can't get out of those compact plastic encased portable speakers.  The sound is more of a quality you would expect from a standing floor speaker.  The size is however, a little larger than your average compact speaker.  It's definitely not something that you can just fit into your pocket.  For this reason we would have like to have seen a handle on the unit.  Something to make it just a little easier to carry on the go.  Unless you have large hands it's a little hard to grip this sucker with one palm.
This TEWELL Bluetooth speaker is also offered in the same exact model without a rechargeable battery. The sister model is the TEWELL RetroRock AC Powered Speaker. It comes at a little lower of a cost, looks and functions exactly the same.  Depending on how you plan on using the speaker you might not need the rechargeable speaker version.  For us, we think it's worth the extra couple of dollars to have the additional options of tossing our music on the deck, in front of the patio, or near the pool.
**Discount: Use the promotion code "Reveal Code Now" to receive 30% off the purchase price.
Specifications
Product Dimensions:      10.2 x 5.9 x 5.9 inches
Item Weight:     4.6 pounds
Speakers: 2 (12 watts each)
Peak Power: 24 watts
Battery Capacity: 1200 mAh
Bluetooth Technology: v 4.2
Bluetooth Range: 33 feet
Bass: Bass Reflex System
Warranty: 18 Months
Manufacturer:  TEWELL