EagleTec KG011 Office Industrial Mechanical Keyboard
EagleTec Mechanical Keyboard Keys
The EagleTec Mechanical Keyboard offers blue LED back lighting which is adjustable and comes in three different colors, black, white and silver.   You can turn the blue lighting all the way up with a breathing effect, or turn it down to a low dim, as well as the option to turn the LED lighting off. A total of 10 brightness adjustments excluding off.
Outemu Blue Switches
It also has Outemu blue switches which are comparable to the Cherry mx blue switches.  The keys are double shot injected for solid typing experience and durable life.  They are designed with a crystal clear backing that allows the LED lighting to shine bright. It comes with a full sized number pad and 100% anti-ghosting on a splash proof keyboard layout.  If you're familiar with n-key rollover then 100% anti-ghosting does the same job. Pressing down 5-6 keys at a time on membrane keyboards is when ghosting starts to occur.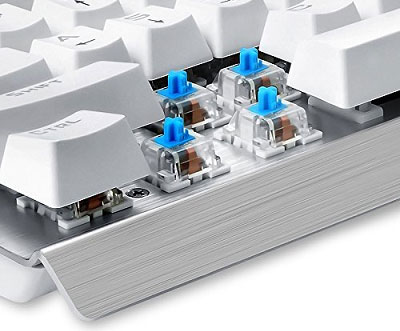 Key Functions
These keys are not too soft yet not to firm.  A perfect amount of give that delivers the audible clicky sound with feedback transferred by the tactile bump that is known to blue switches.  This keyboard features Function keys to control your multimedia.  The 12 F keys allow fast access to your commonly used programs and operating system commands.  Each key is concave for a more natural and comfortable typing experience.  If you're looking to customize your EagleTec Mechanical Keyboard, the keys allow for easy removal and interchangeability.
EagleTech KG011 Office Construction
The EagleTec KG011 Office is far from the average mechanical keyboard.  It is engineered to take on a lifetime of beating.  The frame is comprised of a durable Aluminum with ABS construction and mount plated keys.  A very high end chassis with long lasting springs for lots of stroking.  A crisp design that protects against spills.  The back side of this keyboard features rear feet for adjusting to the most comfortable typing angle.
Reactions
The keys are similar to Cherry MX switches but are a little bit stiffer, but they still feel great to type on.  If you're a laptop owner then you definitely will want to look in to getting an external keyboard to save some wear and tear on your laptops keyboard.
As with most blue switch keyboards.  The keys are loud, most commonly listed as a con, or negative aspect of the blue switch keyboard.  It's like buying chunky peanut butter and then complaining about the chunks of peanuts. These keyboards are click and they do make noise.  So if you're looking for a mechanical keyboard that doesn't make any sound, then don't purchase a keyboard with blue switches.  Look for red, brown, and black switches.

Conclusion
The USB cable is on the shorter side but the LED lighting is done very well. The light shines through the keys instead of just under and around the keys.
Although these are not Cherry MX Switches, it is very hard to tell the difference.  However, the price point is much lower.  At this price it is hard to find a mechanical keyboard with an aluminum top plate.  This is a great keyboard at an entry level or an enthusiast in need of a cheaper alternative with a quality feel.
A great plug and play keyboard that is not too light and not too heavy.
Specifications:
| | |
| --- | --- |
| Switch Style: | Outemu blue switches (Clicky) |
| Switch Shape: | Concave |
| Feedback: | Tactile bump |
| LED Lighting: | Blue Adjustable Settings |
| Features: | Spill Resistant |
| Programmable: | 12 Function Keys |
| Rollover: | 100% Anti-ghosting |
| Dimensions: | 17.6 x 7 x 1.1 inches |
| Keyboard: | US Standard Full Size |
| Weight: | 2.3 Lbs |
| Brand: | EagleTec |
| Model:  | EagleTec KG011 Office |
| Positions: | Adjustable Rear Feet |
| Construction: | Aluminum & ABS |
| Keys: | 104 |
| Support: | Windows 10/8/7 And Newer |
OPD08212017
LINKCK091918