Blue Yeti Microphone Review (USB) THX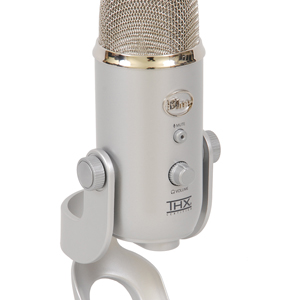 "Who knew it would turn out to be the Blue Yeti Microphone"
Blue Yeti Microphone Review
When searching for a microphone for my new found hobby, making YouTube videos. I wanted to find the best quality mic for my money.  I didn't have a huge budget but I wanted to get that commentator sound that just wasn't being produced from my laptop's microphone. You know the sound I mean?  The sound that is crisp, clear, and rich, those are the videos I enjoy watching.  Not the ones where you can hear people talking in the background, echos coming from all over the place, or weird buzzes.
Researching Microphone Brands
Thus begun my search for a professional sounding device.  I started out reviewing videos of studio quality microphones with A and B testing.  Then, proceeded to manufacturer websites to gather specifications and compare all the features.  Many reviews later I had comprised a list of top sites and electronic manufacturers on the microphones I was most interested in.  The research for information seemed endless but I need to know every single last detail of every brand and model before I could make a final decision.
Decided On Blue Yeti Microphone

I compared countless features and options between various microphone models and brands. Aside from sound quality some mics had stands and some didn't.  I didn't want to go through the whole rigmarole of putting together a stand so that became a requirement.  I wanted the mute button, a headphone jack, and the option of adding a custom stand later if i wanted.
Blue Yeti Extras
The bonuses for me on the Blue Yeti were the 4 different sound recording modes based on the amount of people or direction the sounds came from. Also, this full on metal machine included a pop filter built into the microphone, USB connection, and tilting stand angle adjustments.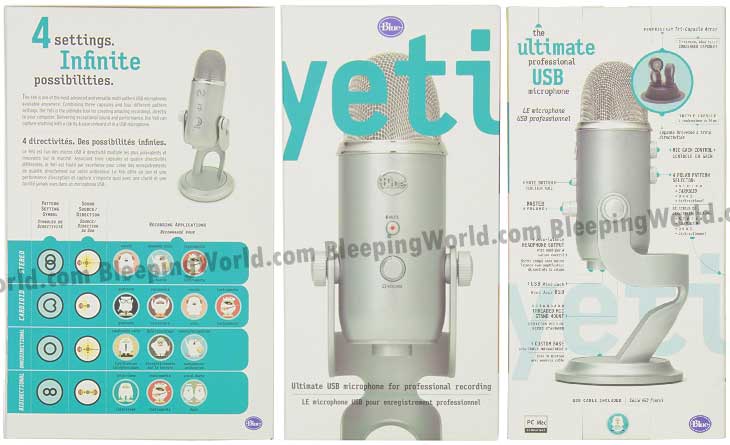 Crazy Blue Yeti
I really only wanted one mic, but before pulling the trigger I started having these crazy thoughts.  I had thought about purchasing 2 less expensive mics so that I could have one to travel with.  But then my mind kept returning to the thought that I would never be happy and filled with regret if I realized that two lesser quality mics would never equal the quality of a more expensive mic.  So I purchased this Blue Yeti Microphone.  In addition, many of my favorite YouTubers were already using this mic.
Pros:
This thing looks and feels solid. Almost every inch is metal.
Has a built in pop filter.
Lots of adjustment options for standing / mounting
Sound tuning & Sound Modes
Power light / Blinking mute light
Headphone jack.
Cons:
Not very travel friendly but that doesn't stop me from traveling with it.
Plastic nobs
Stand adjustment nobs are a little rough on the fingers.
Blue Yeti Microphone does not come with the THX printed on the front anymore.
After Using The Blue Yeti Microphone
I was very pleased with the purchase.  After using the Blue Yeti Microphone for a while now I have notice that it holds up pretty well.  I even purchased a pop filter for it but it made not difference since there is one already built in.  I guess they weren't lying.
It has all the same bells and whistles that most microphones similarly priced didn't have, including options to mute, hook up headphones, or choose single to bi-directional commentating adjustments.  All of the options come in pretty handy.  Its easy to quickly mute the microphone if I'm interrupted during a session.  Never really used the headphone hook up since I'm not a singer, but the bi-directional feature was handy for recording 360 degrees around the mic, or just filtering out the noise from all directions except my own. I got the sound I was looking for without feeling the need to edit the audio.  The only thing I can do now to improve the sound quality would be to build a sound booth.
$106 – Amazon
​
*NOTE: Prices frequently change – Check Latest Price
Specifications:
Capsules: condenser, pressure gradient
Polar Patterns: cardioid, bidirectional, omnidirectional, stereo
Frequency Response: 20Hz – 20kHz
Sample Rate: 48kHz
Bit Rate: 16bit
Max SPL: 120dB (THD: 0.5% 1kHz)
PC: Windows 8, Windows 7, Windows Vista, XP Home Edition or XP Professional, USB 1.1/2.0, 64 MB RAM (minimum).
Macintosh: Mac OSX (10.4.11 or higher), USB 1.1/2.0, 64 MB RAM (minimum).
Warranty: 2 year Limited
LINKCK092018