Lumbar Support Cushion Memory Foam Back
5 in 1 Lumbar Support Cushion Memory Foam, New Feature No Sweat – Cooling Gel Pad Premium, Lower Back Pain Support, Protect & Soothe Your Back, Improve Your Posture With Soft & Firm Pillow
Lumbar Support Cushion by Ziraki
If you do lots of work in front of a computer or are dealing with some bleeping horrible chairs then this might be the answer you have been looking for. I'm not sure how many times I've ridden on some type of public transportation for hours in an uncomfortable seat. By the end of it my back just feels like death. If you're searching for an answer this might just be the ticket.
Lumbar Set Up
The Ziraki Lumbar Support Cushion is a great support for your back. It's a small decent size that you can fit into any chair. You just place it against the chair and use the adjustable strap to fasten it into place. It stays securely in place and allows you to keep it at the height on the seat back that is just right for you.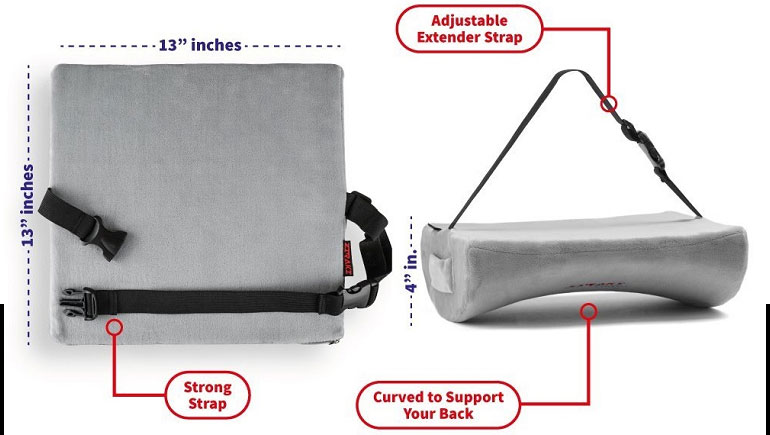 Ziraki Extra Features
It includes a gel pad that you have the option of velcro attaching to the lumbar support cushion. The pad will keep your back at a cooler temperature. This prevents sweating due to long period of sitting. In the summer this can come in pretty handy.


This Ziraki Lumbar support cushion features memory foam which contours the correct pressure points for better support to your back. It comes with 2 covers black and gray, for keeping the lumbar cushion clean. There's even a handle on the covers which is especially handy if you're traveling a lot or moving it from one place to another.
I hate being uncomfortable, especially while indulging in the activities that take up most of my day. The memory foam on this lumbar support is firm but not too hard. It's just about the right thickness so you can feel it while not taking up too much of the seat.
​
*NOTE: Prices frequently change – Check Latest Price
Specifications:
Cushion: Memory Foam
Covers: 2 Washable, Included
Back Strap: Adjustable Extender
Travel: Carrying Handle
Dimensions: 13 inches X 13 inches
LINKCK092018