OontZ Angle 3 Bluetooth Speaker Review
OontZ Angle 3 Enhanced Stereo Edition IPX5 Splashproof Portable Bluetooth Speaker with Volume Booster AMP 10 Watts Power, Custom Bass Radiator, 100′ Wireless Range Bluetooth 4.2
The Oontz Angle 3 Is a high quality 2200 mAh battery, wireless Bluetooth Speaker.
Oontz Angle 3
It has a funny name, but there is nothing funny about it. Serious sound resonates from it's small form factor.
Oontz Shape & Size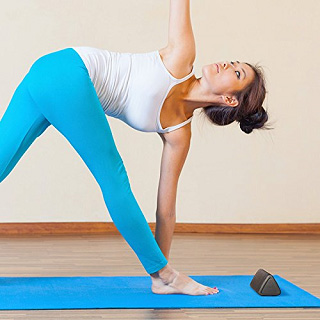 Its uniquely shaped angled design effectively disperses sound that fills the room. The unit is slightly shorter then an IPhone 6 and about the same width as the IPhone on all three sides. This makes it ultra-portable. Just throw it in your cup holder and you're ready to go!
Shower Radio
This Oontz Angle 3 contains 2 speakers that deliver rich clear sound that distinguishes between mids and highs while delivering enhanced bass. It works great in any room, even inside the shower thanks to its rain and splash protection. Though it can take a lot of water, unfortunately it can't be submerged. One charge gives about 12 hours of playback time while weighing under 10 ounces, making it very portable.
Speakerphone With Power AUX-IN
The Oontz can be connect to any mobile device, tablet, or PC. Even if you don't have wireless Bluetooth capability you can still connect your device through the built in 3.5mm AUX-IN port. The speaker also has the ability to take calls and can be used as a hands-free speakerphone with the built in microphone. The unit delivers 10 watts of power which is about 5 watt higher than most previous wireless Bluetooth speakers were equipped with.
Oontz Angle 3 Buttons
On the Side of the device are buttons for volume and pause play functionality. There is a button for power and Bluetooth in case your device does not pair automatically. Next to these buttons are LED indicators for pairing and charging status. It takes a Micro USB for quick charging which is pretty nice since many of us probably have tons of these cords lying around for our other devices.
Oontz Second Grill
Some nice things to note is the utilization of a second grill along the bottom of the OontZ angle which houses the Base radiator. Designed for increasing the bleeping bass output. The system is also designed to play with minimal distortion at max volume allowing you to utilize all 10 watts of its peak power output.
*NOTE: Prices frequently change – Check Latest Price
Specifications:
Playback Time : 12 hours
Battery: 2200 mAh battery
Built-In Mic: Hands-Free Speakerphone
Sound: High quality, loud stereo
Bass: Rich, deep bass
Water Resistant: IPX5, Shower Proof
Power Output: 10 Watts
Portability: Ultra-lightweight
Design: Triangle
Dimensions: 2.76 x 5.24 x 2.52 in
Weight: 0.56 pounds
Connectivity: Bluetooth, Micro USB, USB, Aux
LINKCK091918