Sunbeam Quilted Fleece Heated Blanket Review
Review > Specifications
Sunbeam Quilted Fleece Heated Blanket, Queen, Seashell, BSF9GQS-R757-13A00
Sunbeam Heated Blanket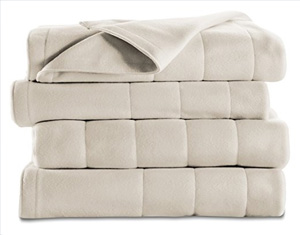 Sunbeam is a large well know brand with over 100 years in the industry. Of its many unique products Heated Blankets are one of their larger lines. This Sunbeam electric blanket comes in a lot of different colors and fabrics.
This product review will cover one of their best-selling fleece electric blankets.  We are reviewing the Queen size so if your looking for something smaller then it will be cheaper as well.
Sunbeam Blanket Features
*10 Hour auto shut off
The Sunbeam Quilted Fleece Heated Blanket with EasySet Pro Controller comes in 4 sizes and 7 different colors. It has a lot more heat settings than your average electric blanket. 10 individual heat adjustment settings to be exact! One especially nice feature is that the auto shut off feature will last throughout the whole nights. So you don't have to get up every 3 hours to turn the blanket back on like some others. The blanket has a specialized system that detects and adjust heat for consistent temperature.
Sunbeam Heated Construction
It has a nice quilted channel design pattern made from pure polyester joy. No need to worry about dry cleaning, just throw it in the wash and dry as you would your cloths. This thing is soft, it's rated extra soft. It has illuminated buttons which are easy to find in the dark. The weight of the Sunbeam heated blanket is nice to sleep under as well as holding heat. If you want to heat up your bed quickly and you don't have enough children or cats for the job, we recommend this electric blanket, not just because of its features but it has a 5 year warranty.
​
*NOTE: Prices frequently change – Check Latest Price
Sunbeam Heated Blanket Specifications:
Auto Off : 10 hours
Heat Settings : 10 heat adjustments
Fabric : Fleece, 100% Polyester
Design : Quilted Channel
Wash & Dry: Machine and dryer safe
System : Senses and adjust to provide consistent heat
GSM : 160 (the ability to provide warmth even without electricity)
Plushness : 2 mm
Warranty : 5 year limited
Buttons : Illuminated
Weight : 4.2 lbs
LINKCK092018